Ursula Dares welcomes you to the Hackney Zebras 'diary of dares'…
Checklist 2013
FIRST year working on the burlesque scene – CHECK!
1st, 2nd, 3rd & 4th (well, almost 4th) festival performance, performed! – CHECK!
Electrocution involving flashing vaginal lips – CHECK!
7 different colours of hair – CHECK!
Shows nationally including London, Leeds & Leicester – CHECK!
Kisses, tears, stress & heart-ache – DOUBLE… CHECK!
Exploration of personal curiosities, teased with… – CHECK-E-DE-CHECK.
Hen Party Teacher for 'the Cheek of It' School of Burlesque – YES!
One Giant Egg Custard – BAKED.
1st place for BEST NEWCOMER at Septembers heat of Cabaret Nouveau – F**K YEH
Runner up for BEST NEW ACT at September's heat of Cabaret Nouveau – CUM ON!!
Raahhh!!! It's a blog. It's a DARES blog. So what is going to be in it?
Hello! My names Ursula Dares and once a week I will bring you 'diary of dares'. Blogging is a brand spanking new event for me & I'm going to see what naturally evolves or happens when a Zebra puts a pen to paper.
I can guarantee you it'll be full of burlesque love from the bottom rung of the ladder. I'm going to share my views on my favourite performers, interview our burlesque audience members, attempt to get into the psychology & history of the performers. It will contain thoughts, ideas, stories, and reviews on shows, industry professionals & recommendations. I'll pop in experiences of applying for work, making contacts with other professionals, back stage action and gig dates… the blog will be, simply, wherever my mind, my mood and my pen take me.
Once a week, every Wednesday, you'll get blogging Dares.
Daring Kiss
Ursula
(AKA Zebra)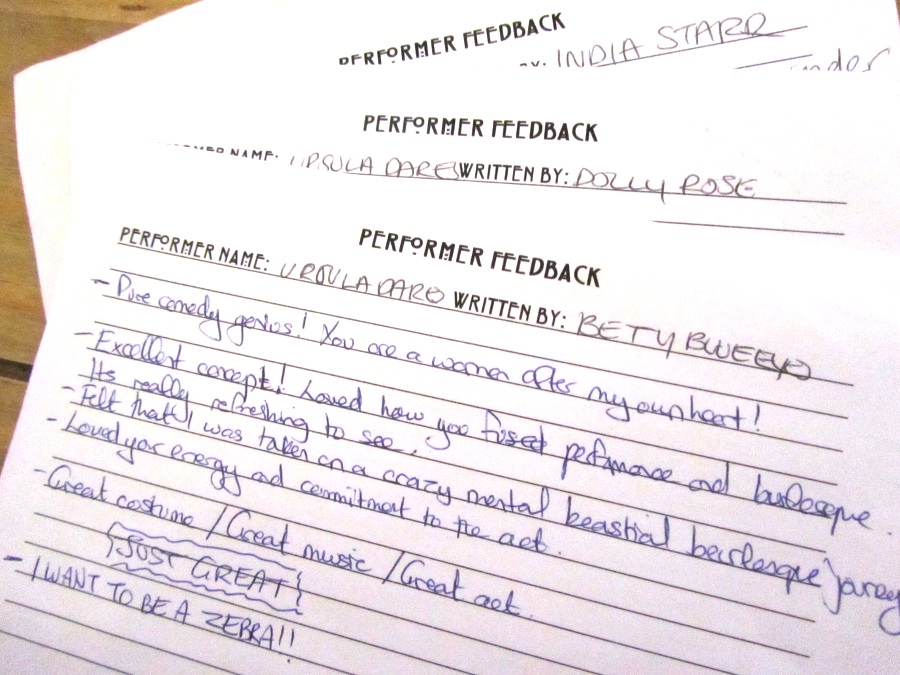 Ursula Dares feedback from India Starr's Cabaret Nouveau, Leicester. Dares performed 'Zebra' to judges Betty Blue Eyes, Dolly Rose and India Starr, scoping 1st place for 'best newcomer' and runner up for 'best new act'.
Big Egg Custard, baked by Ursula Dares & Edward McFadden
Hey, like this? Why not share it with a buddy?
Tweet